Description
The Addams Family Pinball Machine comes with free delivery and installation, it is in fantastic fully working condition.
(Video shows a previous Addams Family Machine. New video coming soon)
The Addams Family Pinball Machine, launched in 1992 and is the best-selling pinball machine ever made, amounting to over 20,000 units built and sold. It was manufactured by Midway, under the Bally name. It is based on the 1991 movie of the same name, and features genuine custom speech by the movie's stars, Raul Julia and Anjelica Huston. This Addams Family machine even includes additional models and modifications all over the playfield to bring the world of The Addams Family to life. You'll find real models of a telephone, a model railway engine, a safe and even Uncle Fester himself sitting in the game's electric chair.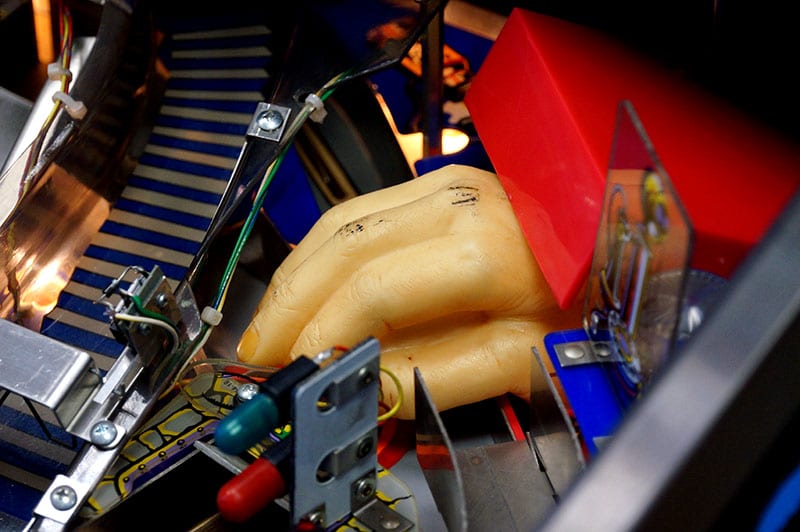 Key Features:
Your objective is to "Explore the strange world of the Addams Family." There are two central objectives:
The Mansion: The Addams Family mansion is located in the center of the playfield and has 12 "windows". Each window corresponds to a different room that the player can enter and receive an award for.
Vault Multiball: In the top-right section of the playfield is a blue bookcase, representing the bookcase that Gomez shows Uncle Fester in the movie. Hits to it award letters in the word "Greed". Once the word is completed, like in the movie, the bookcase turns, revealing a shot to the vault behind the bookcase (it is possible but rare for a ball to go into the vault when the bookcase is in the blocking position). A shot to the vault locks the ball for future multiball use, or starts the multiball when two balls have been previously locked. The bookcase also opens access to the vault at certain other times during the mini games, with varying scores and effects.
Other objectives include:
Bear Kicks: a ramp in the top center of the playfield awards 1 or 2 "bear kicks" (referencing the scene in the movie with the bear carpet that comes to life), awarding points, mansion rooms, and extra balls. A successful "bear kick" shot enables Uncle Fester's light bulb (when not in multiball mode), which indicates that a shot into his electric chair gains a mansion room and activates a mini game (after such a shot, the light bulb goes out).
Staircase Ramp: a left-side ramp that awards an increasing number of millions, usually 1M-10M, and letters in the word "THING" (see THING below).
Graveyard: a set of 5 bumpers (a rare amount on modern machines) that increases the "Graveyard value", which is collected from a right-side shot.
Train Wreck: a dead-end shot in the top-left section that awards points, assists graveyard scoring, and lights extra balls.
GRAVE: 5 targets strewn around the field that award letters in the word "Grave", which when completed award an increasing amount of millions.
THING: Once the word THING is completed (see Staircase Ramp above), a scoop in the top right corner awards an increasing multiple of 5 million points.
Skill Shot: When initially launching the ball, dropping it into Thing's scoop just past the launch ramp gives 2 million points the first time, increasing by a million each time up to a maximum of 5 million points each time. Hitting a skill shot may also gain other benefits if they are active on Thing's scoop (e.g. extra ball, Quick Multiball, Thing points, locking a ball for multiball).
Why is the Addams Family one of the most sought after pinball machines?
There are a number of combining factors which made this game such a major hit when released, and why it is so sought after by collectors today.
At the time of the game's release video arcade games were decling in popularity, due to the improving quality of home games systems. Whilst at the same time pinball had experienced a host of new technological breakthroughs, such as the dot matrix display screen which is housed in the backbox. This enabled animations top be added, better explaining game objectives, special modes, and high-scores.
The gameplay is what really got players hooked, with three "toys" which enhanced gamplay and added a "wow" factor for players and spectators:
Thing – a hand that comes out of the the box at the top right hand side of the playfield, using a magnet to pick up the ball and then disappear again
The Power – using under-playfield electromagnets when activated it would cuase the ball to move in a random manner, devaiting it's course and sometimes flipping it in an entirely different direction.
Thing Flips – Above the top left flipper was an optical sensor that at certain points in the game let the machine attempt to read the speed of the ball, and taking control of the flipper from the player hit a shot on the opposite side of the field. This is the first CPU controlled flipper in pinball history. The game's ability to use missed shots to calibrate future attempts resulted in an automatic flip that was impressively accurate.
On Display in Our Showroom:
If you'd like to try out a classic pinball machine, we have a vast collection of over 15 different classic titles from various big pinball manufacturers like Bally, Williams and Data East on display in the showroom. All of these games are set up and set to free play for you to try for yourself. Even if we don't have the exact machine you're looking for, we can recommend other games that may play similarly.
We recommend phoning our showrooms ahead of your visit so we can give you a rundown of every machine we currently have on display to try.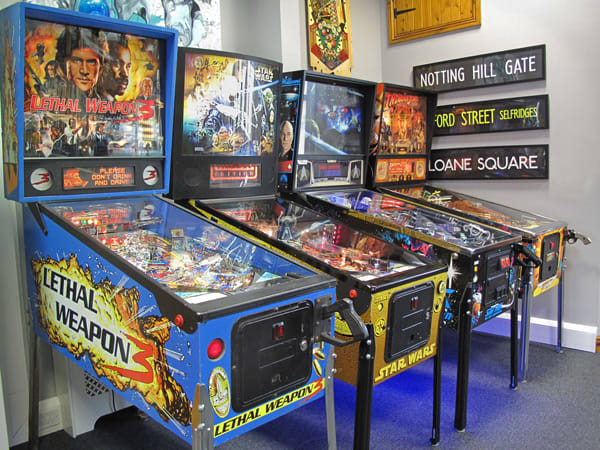 We are keen pinball enthusiasts and have experience of owning and playing a wide variety of pinball games. If you are looking for high quality impartial advice it is definitely worth paying us a visit. There's nothing like playing a few games to get a real appreciation of how good a game really is.
For more details see our Showroom page. For directions see our How to Find Us page.
Condition:
This pinball machine is in great original condition,with only a few areas of wear around the cellar hole entrances (Namely the Vault and Electric Chair) as is standard on this machine. The original cloud topper has been replaced with an opaque, lack replacement and is brand new. The cabinet is in good original condition, showing a small amount of wear.
This is a vintage machine and can therefore carry small cosmetic imperfections due to its age. In this case, there is some wear to the playfield in the mansion and Power areas of the playfield as pictured.
Some machines we sell are fully restored, where we will fit new decals, new playfields, new parts such as ramps, and even upgrade certain items, such as the sound components. Where this type of reconditioning process has been undertaken we will make it absolutely clear that this is the case and the price will reflect the amount of time taken and costs incurred in this process.
Reconditioning and Servicing – 26 Point Checklist:
Buying a pinball can be a lot like buying a car: there can be problems underneath the bonnet that you wouldn't even know about, until they interrupt your fun!
It's worth noting that pinball machines are complicated in their workings. There are pitfalls to buying a second hand pinball machine elsewhere, and if you don't know what to look for, you can have an incomplete machine running at less than its potential. Furthermore, you could purchase a machine that is 20-30 years old and has a serious electrical fault.
However, every machine that comes through our doors undergoes an extensive 26-point check with our trained engineer. This service is exclusive to every pinball we sell at Home Leisure Direct. All machines undergo a full PAT test by a fully qualified engineer to eliminate any risk. We also check everything including the lighting, coils, flippers, full mechanics, electronics and everything else in between. These checks ensure that all components are rigorously tested and working.
This even includes cosmetic touch ups and a full wax clean. We complete this 26-point check to ensure your new pinball machine is in tip-top working order and ready to spend a new life with its new owner.
LED Upgrades
Being a classic pinball machine, this game as standard uses filament bulbs for all of its lighting for general illumination, inserts and the backbox, but did you know that an LED upgrade can completely transform the way your game looks and operates?
For an additional fee, we can replace every single incandescent filament bulb in the game with beautifully bright LED bulbs to make your pinball machine shine, and truly stand out in your games room. An LED upgrade won't just make your machine look dazzling, and make viewing your playfield easier but also improve the way it operates too, generating less heat, consuming less electricity and ultimately lasting for longer.
Ask our team about LED upgrades when enquiring to find out more, or read up in our buying advice guide on LED upgrades.
Addams Family Pinball Measurements:
Please ensure you fully check that a pinball of this size will fit into your intended location and ensure it will fit through your doorways.
| | |
| --- | --- |
| Dimensions | |
| Height: | 85″ |
| Width: | 29″ |
| Length: | 55″ |
| Weight: | 279lbs |
Coin Mechanism:
We sell our restored, reconditioned and used products to home users; as a result, a functioning coin mechanism is not included, because the machine will be set to freeplay. However, we do offer the option to install a coin mechanism, in case you wish to set your newly purchased pinball up for that traditional feel where you can insert coins, or even charge your friends to play.
For an extra fee we will recondition the coin mechanism in your chosen pinball and test it thoroughly, leaving it in full working order. Please select from the drop-down options at the side of the screen.
Warranty:
Home Use:
This pinball machine comes with a 1 year parts warranty. All parts that are faulty will be replaced. Often we can solve any problems over the phone and supply any necessary components for the customer to fit. If necessary our specialist repairer can visit your home to inspect and repair your machine on-site, but this would be chargeable. Please call us for a call-out quotation. If parts are required which are not carried at the time these will need to be ordered for you, and will sometimes need to be imported from the States – therefore, there can be a wait for the part to arrive.
After our 1 year warranty has expired we will continue to offer you complete support for any problems you have, either over the phone or by email, and can provide a chargeable engineer call out should it be required. Whatever happens, we will be able to look after you and your pinball machine.
Pinball machines are complicated items, which don't like being moved about, nor do they like the cold or humidity. Therefore, if you chose to move the pinball machine from where we originally installed it, or it is stored in a cold or damp location, our warranty will become null and void. We won't be able to supply any parts for your machine free of charge if it has been accidentally damaged or you have tampered with it in any way.
Commercial Use:
Where a used/secondhand/reconditioned item is not being used in a home, but is instead being placed in a commercial location such as a bar, pub, cafe, restaurant, bowling alley, trampoline park, youth club, office, factory, or similar, we will offer a 30 day on-site service warranty should any problems occur which are not a result of any misuse or malicious damage. This warranty will cover parts and labour.